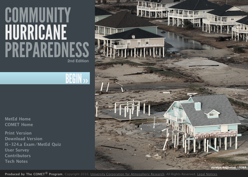 Want training on how to help safely guide your community through a hurricane, but lack the resources and time to head off to a specialized class somewhere? Have a look at the Cooperative Program for Operational Meteorology, Education and Training (COMET) hurricane course. It's free, and you can do it from any computer connected to the internet. Here's a clip from their press release:
The COMET Program is pleased to announce the publication of "Community Hurricane Preparedness: 2nd Edition". This 6-hour module is intended primarily for emergency managers in communities that deal with impacts from tropical cyclones. In addition to discussing the science behind hurricanes, their formation, and their hazards, the module provides an overview of forecast products and tools that emergency managers can use to help prepare their communities for these threats. The culmination of the module is a decision-making exercise, based on an actual hurricane, in which the learner will review information and make decisions at various stages as a hurricane threatens.
Sound interesting? You can find the Community Hurricane Preparedness course here (or here, in Spanish). Registration is free and simple (really: took all of 30 seconds to sign up). As an added bonus, you can have your progress sent automatically to your supervisor or organization.